A Rum Fellow (ARF) is a design studio dedicated to artisan textiles, rugs and statement interior pieces emblazoned by colour and intricate pattern. Their team works across London, Central and South America and their head office and design studio, at The Old Church School in Frome, Somerset. Now in their tenth year in business, I caught up with founders, Caroline Lindsell and Dylan O'Shea to talk about their journey from Spitalfields Market, forging connections with Amazonian tribes and the importance of building your business around something that you love, but that does something good too.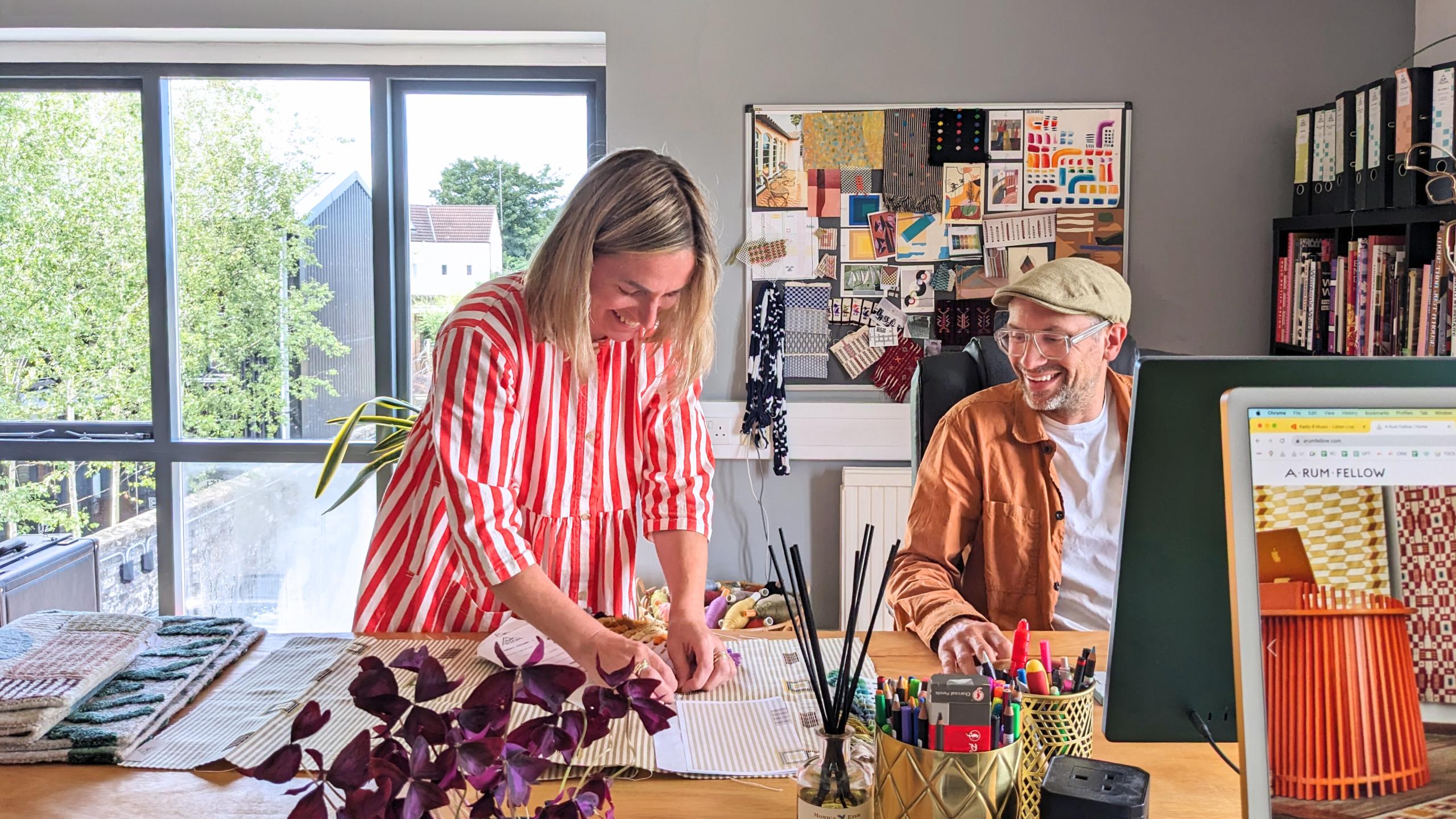 It's a Tuesday afternoon and although the sky outside is looking a little dull and grey, inside the ARF studio there's a riot of colour. Fabric samples hang from almost every surface—some pinned artfully to boards, others stacked and gathered in organised chaos around the room. A large oval shaped rug with a striking geometric print with orange, ochre and black takes centre stage—it's a piece that has moved with them from their previous home in Tottenham, to the countryside of Somerset. One side of the room bears two large boards with new designs, unseen by anyone except the ARF team until they're released to the world, and very much under wraps for now.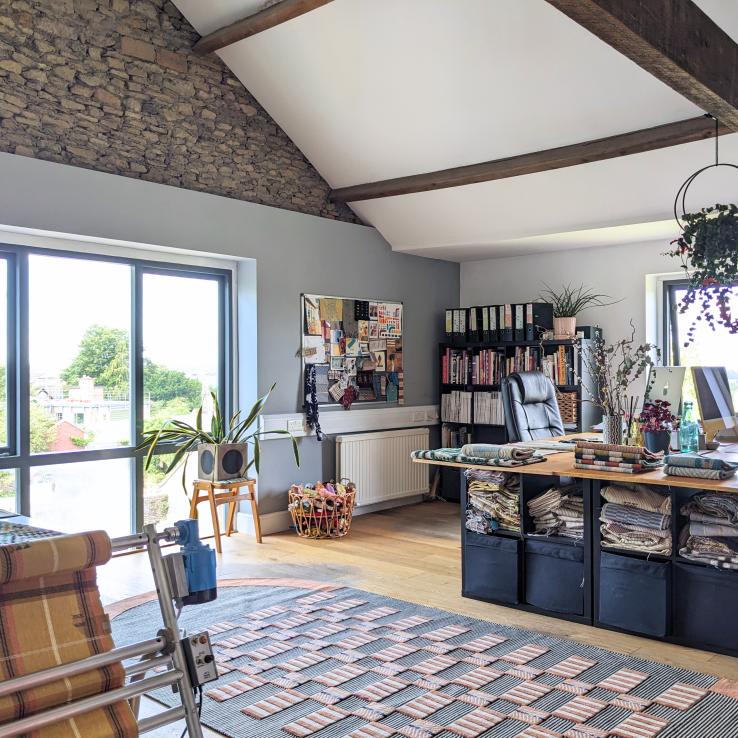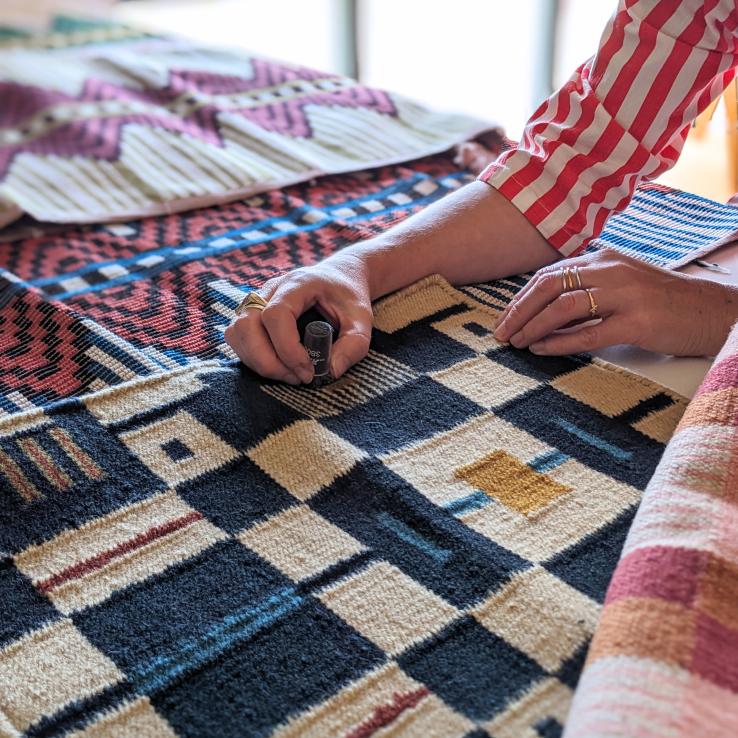 Caroline and Dylan are welcome hosts and there's always a sense of calm in the space they've created here at The Old Church School. As we settle down, coffees in hand, I ask them to start at the beginning and take me through the ARF journey.
"We saw a role in connecting artisan communities to a broader market."
In the early days of the business Spitalfields Market was ARF's home, followed by various pop-up incarnations across London, where the couple were also living at the time. Quite early into their journey they shook off their retail beginnings and realised there was an opportunity to capitalise on their respective skillsets—Caroline in design and Dylan in international development and fashion sales—to pivot their business away from focussing on retail and vintage pieces, and to look to create something new for the trade market instead. That's where the foundations of working with artisan weavers in Central and South America was born, and ARF took on a new direction with a set of core beliefs at its heart.
"We really saw the value in the Fairtrade movement and wanted to empower people to be the agents of their own change and give them the financial power to do so," explains Dylan as he talks about bringing his and Caroline's expertise together.
"Part of our mission was to create opportunities for amazing undiscovered weavers," he continues, expanding on the transition from retail to trade, "we saw a role in connecting artisan communities to a broader market by using Caroline's amazing design skills and their amazing talent. In the first year we started working with an Amazonian tribe in Peru, then it snowballed from there."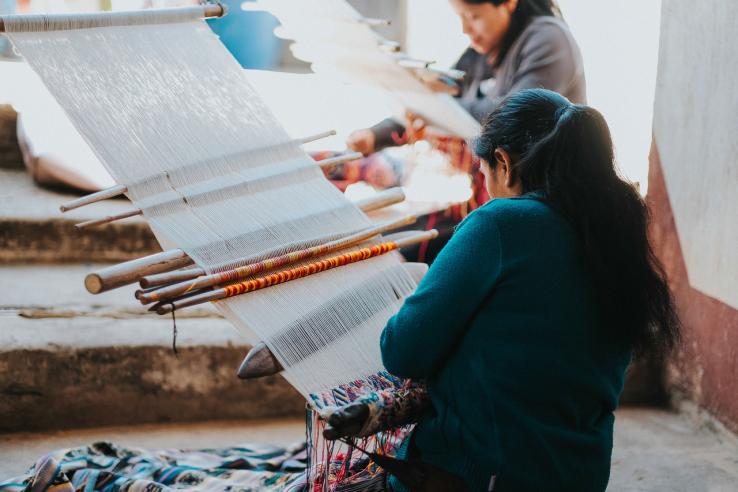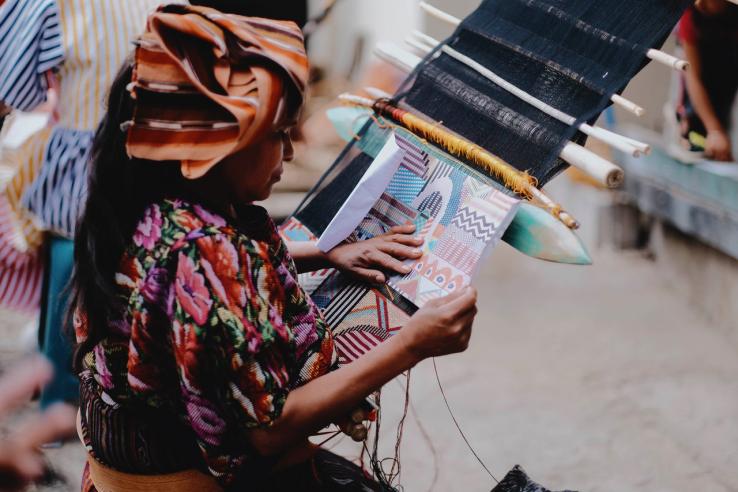 Caroline studied in the UK and spent time working in the fashion industry in the US and credits California, in particular, for helping to cultivate her love of colour and pattern. This is evident in how the aesthetic of ARF has developed over the years, incorporating a range of bold prints, plays on traditional Central and South American styles and bringing in the language of Western influences too. In February 2014 the pair took their first trip to Guatemala, which is now where all their fabrics are made. Those first few trips were an adventure, and uncharted territory for the young business, as Caroline explains:
"Forging connections with an Amazonian tribe was no small feat. On our first trip we went out to Bolivia, Brazil and Peru and met with some weaving groups and social enterprises out there. We realised that economically we could do something to support the weavers, but also from a design perspective it was such an exciting prospect for us too."
Working with a select few interior designers in their early days—who came with exciting projects and commissions—really helped them explore the opportunities with the connections they were making and reinforced that the slightly unusual approach they were taking to textile production was the right thing to do. Those first commissions and early projects working with the weavers also helped them to understand the huge amount of skill and time that goes into the weaving process—with some particularly intricate pieces taking weeks to produce.
"There's a rich history of textiles and weaving out there, but people are also still doing it today too. It's still alive," Caroline explains, when talking about the industry they found on their trips. Refreshingly, they discovered that many of the organisations and social enterprises they discovered were doing pioneering work too; many of them supporting vulnerable women and indigenous communities whilst helping to create long-lasting career and business prospects that could scale over time.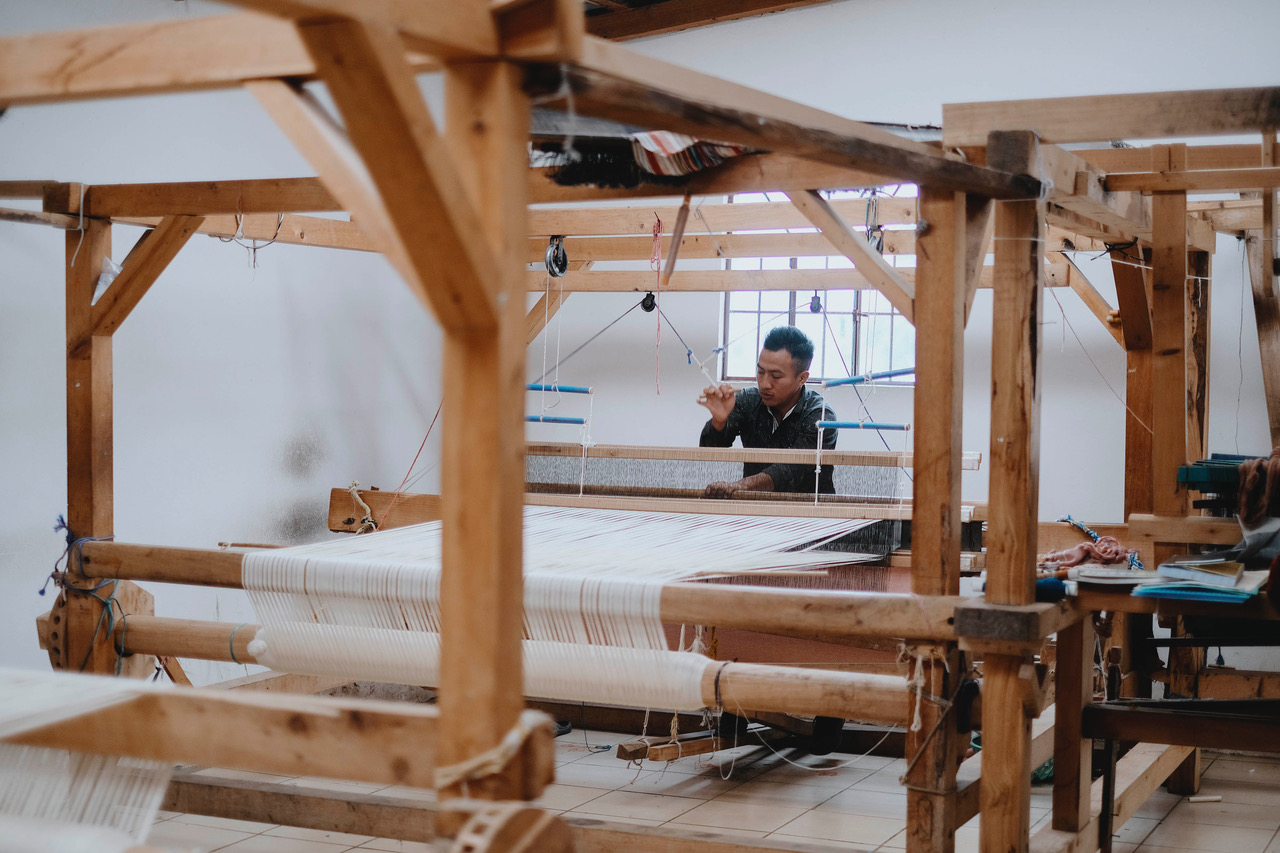 Working so closely with makers over 5,000 miles away obviously has its challenges, but the pair now have a Production Manager based in Guatemala, Fabiola, who now oversees the day-to-day running of the production side of the business. Here technology has played a big role in keeping the tight-knit team connected: "she's the one on the ground who we talk to most days. Usually over Zoom or WhatsApp. We use Monday too," Caroline explains, making the vast distances between their locations seem like just an everyday hurdle to overcome.
In the first few years though, before Fabiola became a formal member of the ARF team, they would visit themselves every 6 weeks or so, one staying behind to look after the kids whilst the other would check-in on production. Those first months were crucial—they had to set up the workshops, build up relationships and even build new looms with the weavers so they could make wider fabric. Being mainly Spanish-speaking communities too, the language barrier was something they had to deal with, as Dylan explains:
"In the majority of the workshops most people speak Spanish, but in the more indigenous communities the majority don't. So in those cases Fabiola is translating into Spanish, and then somebody else is translating into the local language."
You can tell there is a real admiration for the communities they've met and nurtured relationships with, and the pair talk excitedly about the people they've met over the years.
"As a group they really support each other," says Caroline, "some of them were maybe friends before, and some of them family members too, but now they're really this community and they've emotionally supported each other through a lot and found a lot of strength and confidence in that connection."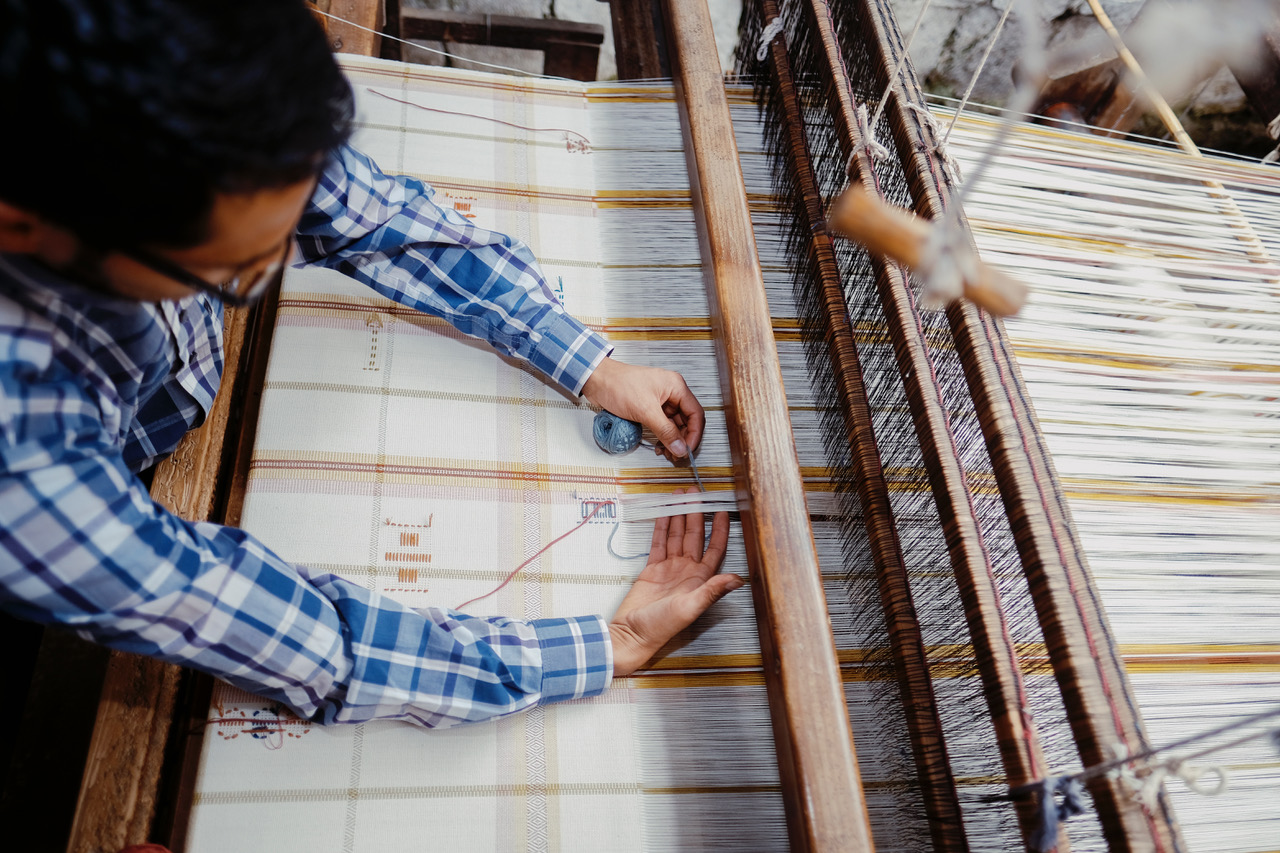 With all their products being made in what is still a very traditional and labour-intensive way, they've learned to lean into the slow design and production process, celebrating it for the high-quality product it produces and for the supportive commercial model it provides to their supply chain. For their entry-level fabric, the weavers can produce around 7 yards a day, and for the more complicated patterns it can be as little as a yard a day. A backstrap woven panel by the indigenous Mayan women they work with can take anywhere up to 4 weeks to produce.
Whilst maintaining their relationships overseas, the commercial end of the business continues to thrive and grow here in the UK (and other markets around the world too). After some very successful appearances at places like Clerkenwell Design Week and Decorex they were even picked up by world-renowned retailer, Liberty.
As Caroline reflects though, those early wins can sometimes seem more significant than they are, and over time they've learned to celebrate them, but to look at them with a slightly more critical and level-headed eye too.
"When we got into Liberty I thought that was going to make us, but it didn't. But it does give you an idea that you're doing something right. So you keep pushing forward."
When talking about the pace of their business and considering the very London-centric industry they work in, I was intrigued to find out more about their decision to move away from London and move their family and business to Frome in 2022. The plan, they tell me, was never to stay in London long-term, but work and having children kept them there a little longer than planned. Once the business was in a comfortable place and they felt like they could make a move to somewhere in the countryside, they jumped at the chance.
Keeping a foothold in London was an important piece of the puzzle though, and their Notting Hill showroom (which opened earlier this year) has become an important city outpost. The pair now split their time between Frome and London, with Dylan heading up to their West London space once a week to oversee sales and marketing efforts, whilst Caroline and her design team works from both their Frome HQ and London showroom.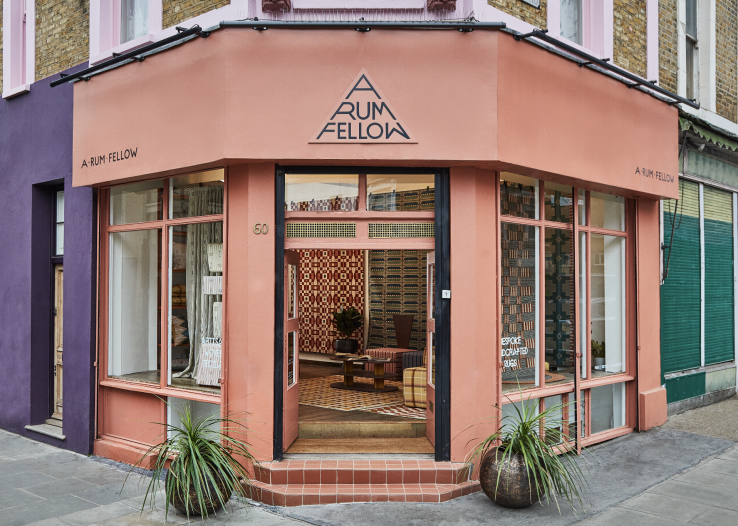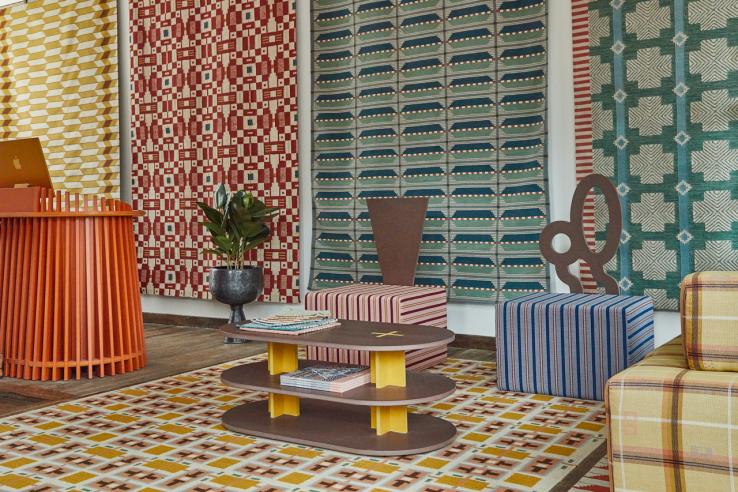 On their new setup, working and living in a relatively sleepy town in Somerset, I was intrigued to understand a little more about their day-to-day working lives and why switching from working from home to a more permanent workspace was important to them.
"When you're working together it's really good to get out of the house. Having everything at home: your family, relationship, bills and everything else, it can get a bit too much." says Dylan.
In a post-Covid world, the pair seem very excited about the potential for places outside of London to become more and more important as creative and commercial hubs too. Despite being told at fashion school that 'nothing exists beyond Bristol', Caroline instead remarks that more and more people—clients and industry peers alike—have expressed interest in coming to see them not in W10, but at their base in Frome instead. As a result, plans are in the works to make more of their space here and to look at ways in which they might embed themselves in the local community even more through things like work experience and graduate schemes at some point in the future too.
"It's about creating something that's beautiful all the way through."
As we begin to wrap up our conversation—having been taken on a whirlwind tour of the various types of fabrics, weaving styles and new collections in the works—I ask perhaps the question I should have led with: what's in the name?
"Our whole approach for a textile company is unusual," Dylan explains, "people don't usually spend months trying to connect with an artisan in the jungle, because it's not an efficient way of doing things. So it's basically about our approach being different."
Their different approach to business is certainly inspiring, and is evident in almost everything they do. Having always prioritised creating a business that would fulfil them intellectually, aesthetically and in a way that would enable them to live the life they wanted just goes to show the old binary adage of 'work to live or live to work' doesn't always apply. You can love what you do, make a positive contribution to the world and allow yourself to step back and enjoy your time outside of work too. It's refreshing to see.
Dylan sums it up perfectly when he says, "it's about creating something that's beautiful all the way through."
–
You can find out more about A Rum Fellow at arumfellow.com and follow them on Instagram here.

A Rum Fellow showroom images by Natalie Dinham.