Naomi Raybould is the founder and creative director of Beyond Nine, a clothing brand that makes feel-good clothing made for life. Comfortable enough for everything, ready for anything. Designed by women who have been there, for women who are there. We caught up with her in her studio at Hamilton House in Bristol to find out the story behind the brand, her design inspirations and the importance of recognising mothers in the workplace.
Tell us a bit about yourself, what's your background and what's your business?
Hello! I am Naomi, Mum to 3 little boys and the Founder of Beyond Nine. I started Beyond Nine 6 years ago, with no previous background in fashion because I was frustrated with the lack of choice when it came to maternity wear and postpartum dressing. I didn't want to wear clothes in a style that I wouldn't have worn previously, but I felt that everything that was on offer was frumpy, poorly made and it felt like it was designed by someone who had never been pregnant. At Beyond Nine we design thoughtful clothes that allow for women's changing bodies – not just pregnancy, but think monthly bloating, food babies or changes that might take place in the menopause – but our designs still make women feel stylish and like themselves.  
What does an average working day look like for you?
We've grown a lot in the last couple of years so my work days are really full on and really varied. I can be head down in financial spreadsheets, on location shooting product or rifling through fabric swatches picking colours for our next collection. I work across all aspects of the business so no two days look the same. It's exhausting but I love it.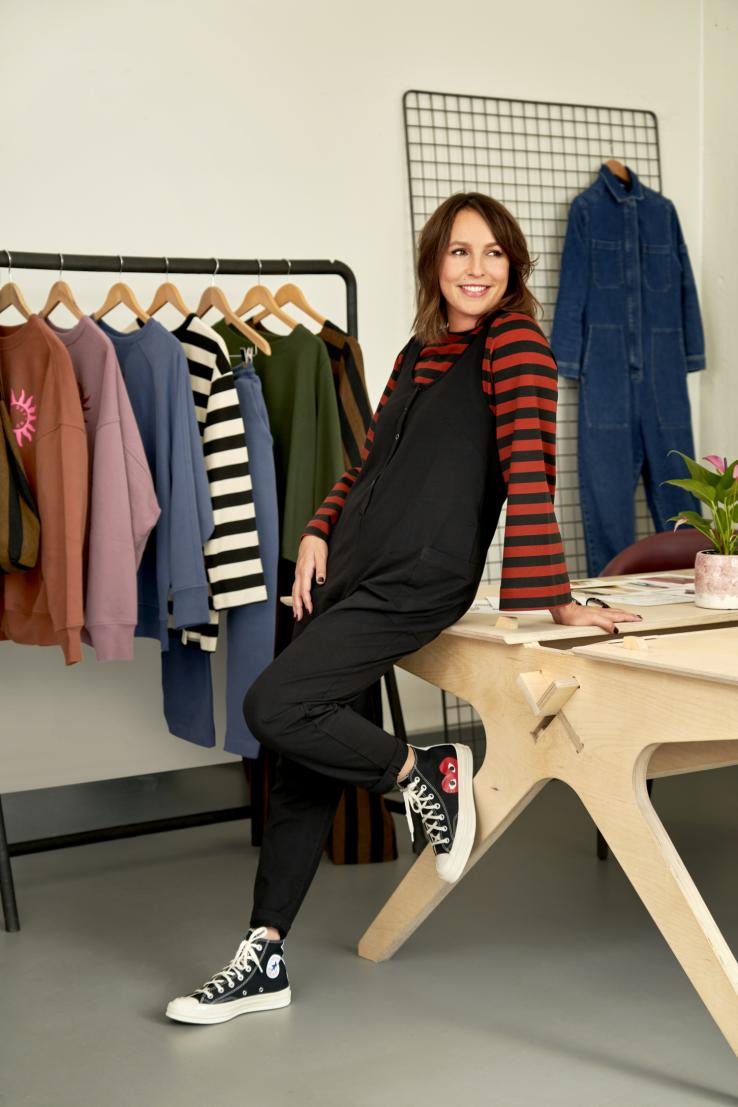 Who, or what, inspires you and your business?
Our community is my biggest inspiration. When I hear that we've made a customer feel like themselves again, or that they've bought every colourway of their favourite jumpsuits or trousers from us, that really motivates me to keep delivering considered clothing that makes women feel brilliant about themselves. I also absolutely love people watching, I love how people add their own unique spin on everyday clothing. I am also knee deep (and have been for almost 2 years!) in a house renovation so I find inspiration through interior trends and colours. I love how the interiors world has become much more varied and the recent shift in the industry which celebrates individualism which makes a house a home, I think the same applies to fashion.
What have been your major successes so far?
To be honest, I never could have imagined six years ago that Beyond Nine would be what it is today. I am so proud of the team we are building, of the incredible supportive community that we have and how we are changing the fashion industry's complete disregard of mothers.
If you could change one thing about the fashion industry right now, what would it be?
I would want more women at the top, and for mothers to not be ignored by the industry. Whether that is through the types of clothes that are made – I feel the fashion industry has long ignored that fact that women's bodies change over time, and even week to week, but they're also so often disregarded in the workplace. So many women are pushed out of the industry when they have kids, but mothers bring so much.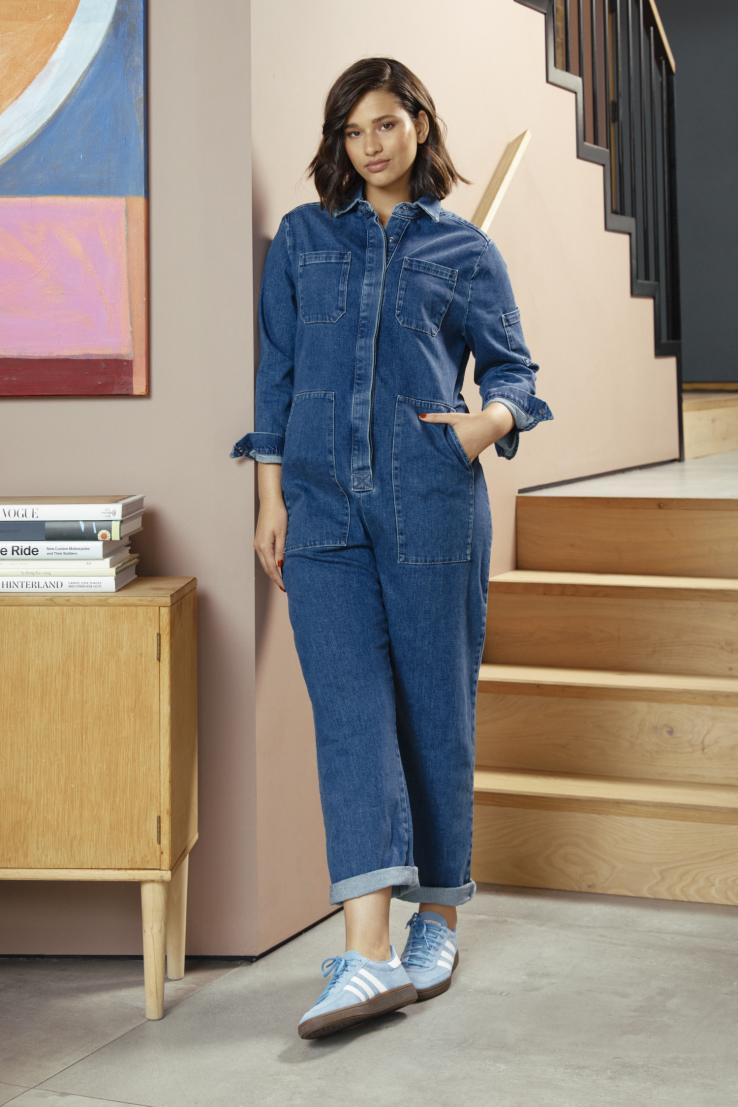 What advice would you give to a new business looking to enter the fashion industry?
It is not an easy industry to break into. It's actually a very closed industry and very much built on networks and contacts – being an outsider that was my biggest challenge at the beginning. If you find a brilliant supplier, keep them! And also, make sure you whole heartedly believe in your product.
What are your favourite things about working in Bristol?
I moved to Bristol almost two years ago and we're so happy here. We love how friendly the city is, how diverse and cultural it is – there's always something happening.
Desert island situation: what 3 things can you not live without?
A comfortable pillow (sleep is ridiculously important to me), my Mabel trousers for comfort and can I take my family with me?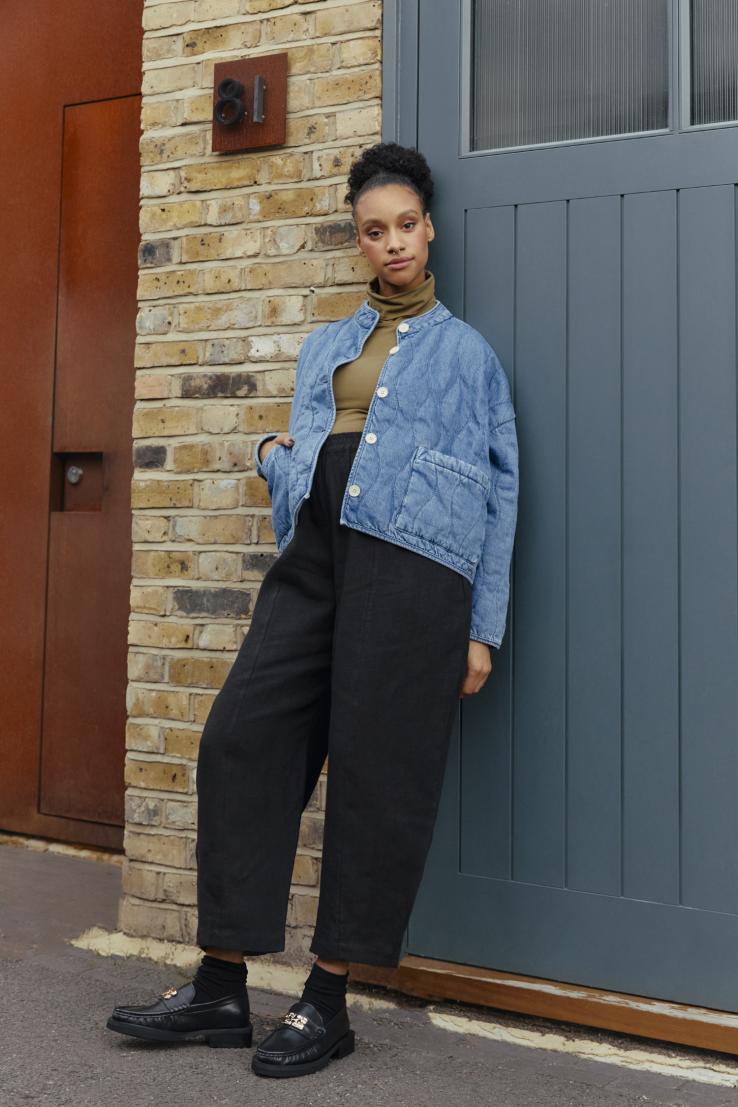 Why did you choose to base yourself at Hamilton House?
It's a great central location, the light in our studio is lovely and brilliant for filming product, it's a lovely community and we've already started working with some of the other businesses in here.
Do you have any exciting new products or projects coming up that you can tell us about?
We have so many! In November we're releasing our first ever knitwear collection and an expanded denim range including jeans which are actually comfortable!
Where can we find out more about what you do?
Head to our website https://beyondnine.co.uk/ or our Instagram @_beyond_nine